A complete guide to the cost of kitchen interiors in India for different types of homes, needs and preferences.
The kitchen is the heart of your home. It is the place where you spend the most precious time, cooking meals for your family and friends. So, having a functional kitchen where all your cooking appliances, cookware and supplies are within easy reach makes your culinary experience easy and comfortable. But with modern-day cramped apartments, having the lavish kitchen of your dreams can be difficult. So, modular kitchens come to a great rescue in elevating the functionality of kitchens in any size or shape.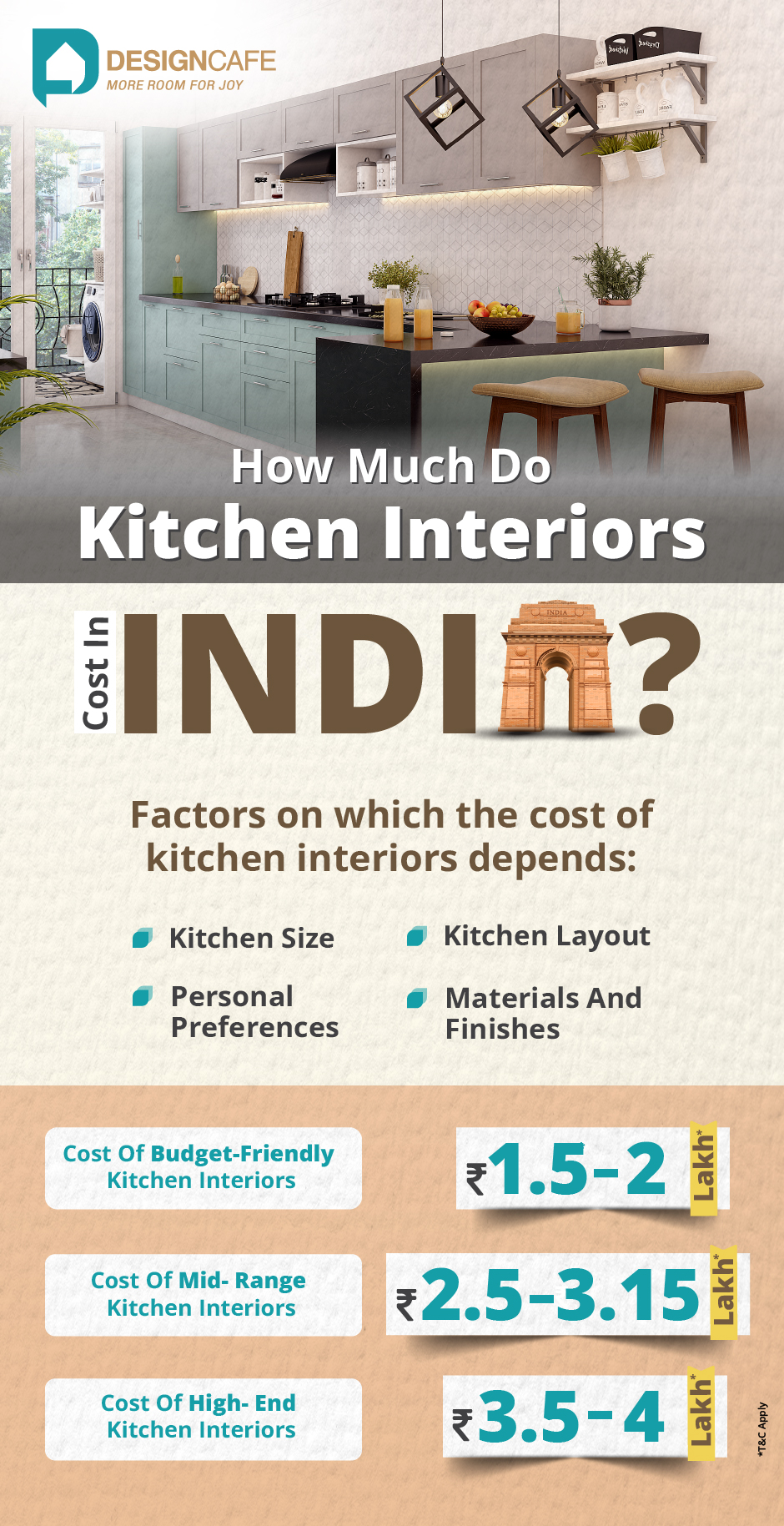 Modular kitchens not just make your kitchen look sleek and elegant but bring out extra storage and display spaces from places you wouldn't have imagined. But every good thing comes with a price tag, and this stops most of us from thinking of our dream kitchen interiors. So, we at DesignCafe have brought you a complete breakdown of the cost of kitchen interiors so you get a fair idea about the expected budget you should be ready with before taking the leap towards your dream kitchen. So, get ready to dive into some stunning kitchen interiors.
Before getting into the cost details, let's discuss the factors on which the cost of kitchen interiors depends.
Kitchen Size: A large kitchen will require more modules compared to a small kitchen; thus, the cost will be higher than a large kitchen.
Kitchen Layout: If you have very less usable space in your kitchen, you may want to maximise the storage and functionality. Then the cost will be higher even for a small kitchen. For example, a simple kitchen with basic shutter units and drawers will cost lesser than a kitchen with smart features like magic corners for deep storage.
Personal Preferences: If you love cooking and preparing meals for your friends and family on a daily basis, you will need a functional kitchen with ample storage and free flow movement.
Materials & Finishes: A kitchen designed with laminates is comparatively less expensive than acrylic or lacquered glass cabinets.
To give you a fair idea, we have divided the cost structure into three broad points for you to get a better understanding.
Cost Of Budget-Friendly Kitchen Interiors
If you are looking for a budget kitchen interior cost, you can expect somewhere around INR 1.5 lakhs to 2 lakhs. Your kitchen will be designed with basic laminates. The wall unit can be a combination of shuttered cabinets, box cabinet units and open shelves. The base unit can have a wire basket drawer with organisers and tandem drawers beneath, an oil pull-out and a dustbin pull-out. You can also add some space-saving mechanisms like an S-carousel and D-carousel to add a stylish look while utilising your kitchen space to the maximum but will cost you a little extra.
Kitchen 1: This modular kitchen with cabinets in stone finish laminates comes with open and closed cabinets and a petit breakfast counter with a wall-mounted bar unit. The open box units on the overhead cabinets help in exhibiting your crockeries and lend an uber-cool look.

Kitchen 2: This eclectic kitchen is designed with vibrant colour laminates to add a youthful vibe to the space. The cabinets are kept to the minimum and the extra wall space is used to add some floating shelves, box units and hooks for some extra display space.
Kitchen 3: This budget-friendly U-shaped kitchen space is designed in light wood-like laminates for a warm vibe. The overhead and base cabinets help keep your kitchen organised and clutter-free while the floating shelves provide ample display space for your bottles and jars. This kitchen is chic and minimalistic yet has a youthful vibe to it.
Kitchen 4: This simple U-shaped kitchen comes with a small breakfast counter for you to enjoy quick meals with your friends and family. Innovative units like microwave unit, multiple pull-out units and handle-less overhead cabinets help keep your counter clean and elevate your cooking experience.
Kitchen 5: This kitchen in white and yellow laminates adds a pop of colour to your space. It's perfect for young urban couples. The open box shelves on the overhead cabinets come in handy to arrange all your pantry essentials. The drawers and pull-out units in the base cabinets are perfect for housing all your cookware in an organised manner.
Cost Of Mid-Range Kitchen Interiors
If you are looking for slightly fancy kitchen interiors, the mid-range kitchen interiors are perfect for you. In this, you choose acrylic or high gloss for your kitchen cabinets. Both are easy to maintain and lend a rich look. You can expect some overhead cabinets with frosted glass shutters to lend a classy look to your kitchen instead of the regular ones. The base unit in this range will comprise tandem drawers, oil pull-outs, dustbin pull-out, carousel units and shuttered cabinets. The mid-range kitchen interior design cost with the above-mentioned amenities will be somewhere around INR 2.5 lakhs to 3.15 lakhs.
Kitchen 1: This kitchen in Urban Greens, Bangalore by DesignCafe is done with a lavish stone finish and white high gloss laminates to create a striking contrast. The box cabinets with frosted glass front on the overhead cabinets lend a lavish look to the kitchen and match well with the interiors.
Kitchen 2: This kitchen in Shangrila red high gloss laminates poses style and luxury. The pair of pendant lights over the breakfast counter illuminates the space and adds extra jazz. Opt for high gloss laminates if you'd like to have a luxurious appeal in your kitchen space.
Kitchen 3: This kitchen is designed in acrylic finish for a seamless look. The showcase on the dado area houses utensils and crockeries, making it perfect for short people. The handle-less shutters lend a clutter-free look, while the open box unit on the base cabinet helps arrange utensils in an organised way.
Kitchen 4: This acrylic kitchen in white and olive green adds a tropical vibe to your home. The tall unit provides extra storage space for your crockeries and appliances while the handle-less base and overhead cabinets utilise the space beautifully, giving you a clutter-free cooking experience.
Kitchen 5: This kitchen is designed with a combination of acrylic and laminates. We have used a darker shade for the base cabinets as it is more prone to wear and tear while the overhead cabinets are in lighter shades to reflect ample light. But the highlight of this kitchen is definitely the foldable dining table with hidden storage where you can keep all your dining essentials and enjoy meals with your friends and family.
Cost Of High-End Kitchen Interiors In India
If you are looking for a high-end kitchen with all the latest modular mechanisms and luxury finishes, the cost will be somewhere around INR 3.5 lakhs to 4 lakhs. You can go for lacquered finish cabinets in this price range. Lacquered glass is excellent for the kitchen as it reflects maximum light and highlights your cooking area beautifully. They are very easy to clean and maintain, and the gloss does not fade away easily. You will also get wall-mounted cabinets with push-to-open mechanisms for easy access and free flow movement. Along with the shutter and carousel units, drawers and pull-out units mentioned above, you can also add a tall unit, pantry pull-out, detergent holder, corner units, etc.
Kitchen 1: This white and grey kitchen in Embassy Pristine, Bangalore is designed with lacquered glass finish for a spacious vibe. White makes your kitchen look roomy while the lacquered glass reflects light beautifully. The heavy-duty chimney and built-in hob help keep your kitchen clean and oil-free, making it perfect for working professionals who enjoy home-cooked food.
Kitchen 2: This gorgeous kitchen in Duco finish has a subtle combination of vintage and modern look. The appliance garage, heavy-duty chimney and modern storage mechanisms add an ultra-modern appeal while the decorous handles add a royal touch to the space, creating the perfect balance of a modern and traditional vibe.
Kitchen 3: This kitchen comes with uber-cool mechanisms like a magic corner, pantry pull-out, appliance garage and handle-less overhead and base cabinets. The diagonal lift-up shutter on the overhead cabinet helps to keep all the spice bottles and pantry essentials within reach and helps in a seamless cooking experience.
Kitchen 4: This L-shaped kitchen is designed in a dual colour tone for a striking contrast. The overhead and base cabinets come with multiple storage and display solutions, while the base cabinets with frosted glass front lend a sleek look to your space.
Kitchen 5: This large kitchen comes with ample storage options in the overhead and base units. The kitchen island can be used as a dining table to entertain guests while preparing meals, while the bar cabinet on the wall is perfect for exhibiting your wine collection and takes your luxury kitchen design up by several notches.
Please note that these quotes are just for reference purposes and the actual cost may vary as per your requirements. While this should give you get a fair idea of the kitchen interior design cost in India, the actual cost will depend on the size of your kitchen and the mechanisms that are best suited for your cooking area. You can talk to our designers to get a detailed quote specific to your kitchen.
Home interiors are a long-time investment so it is always wise to opt for professional design services. This will guarantee the best quality product and hassle-free service. The cost of hiring an interior design service might seem a little on the higher side compared to local contractors, but the hidden cost, unnecessary delay, compromise on quality, and the hassles associated with it can ruin your design experience.
DesignCafe's designers have years of experience delivering personalised homes as per the client's budget and lifestyle. So, you are assured of the best quality, materials and finishes, hassle-free installation and a 10-year warranty. We also have no-cost EMI options so you can make your dream home interiors a reality without worrying about the budget. Book a free consultation today and for some inspiration on kitchen interiors, check out some of our modular kitchen interiors.
Also, check out 2BHK Interior Design Cost